video

video

video

Want news and tour info? Sign up for Kathryn's mailing list!
Jan. 21st, 2021
I am excited to have recently launched 1-877-2BE-CALM as part of my 2 year artist residency with The City of Victoria! You can call toll-free 1-877-223-2256 (within Canada) to hear uplifting stories, songs, a meditation, children's laughter and lots of other wonderful sounds!
Listen to magical Northern Resident Orcas (#1 B.C. Nature Sounds), listen to a child discovering the Whoppee Cushion for the first time (#7 Children's Laughter), listen to a story about the Salish Wool Dog (#2 Indigenous Stories and Songs) and much more!!
You can also listen to all of the audio at victoria.ca/becalm, as well as check out the artist bios, transcripts and learn more about the project!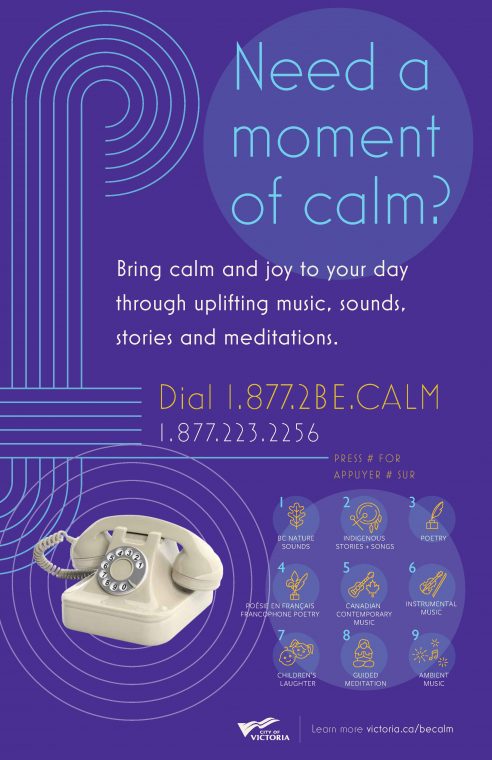 A million thank you's to everyone who has helped put this project together so far, including TELUS, The City of Victoria Arts, Culture and Events and Engagement offices, Katherine van der Gracht, Colin Stewart, Christine Boutillier, Dominique Hamel, Anne-Marie Stewart, Kate Todoruk, Ženija Esmits, Dr. John Ford, and all the parents who sent in recordings of their children laughing! A big thank you as well to my dear collaborator on this project Emily Hamel, and to all the artists involved who agreed to share their work! Thank you!
Hi everyone! I am putting on one more YouTube livestream concert this Friday, May 1st, at 7:30pm PDT! This time, instead of my own songs, I'll be performing some of my favourite songs written by others, solo on piano, live from my home. The 40 minute set will include songs by Kate Bush, Queen, Joni Mitchell and more! Beautiful poster design by Jen Severtson. ❤️
Link: https://www.youtube.com/user/KathrynCalder/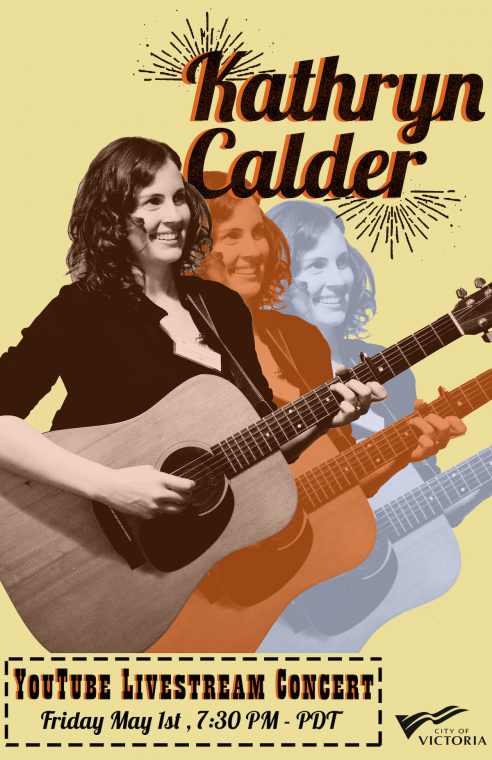 Hi everyone! Since we can't get together right now, I'm putting on a 30-minute live stream concert from my home this Friday, April 3rd at 7:30pm. I will be performing some of my songs, plus a couple of favourites written by others. Looking forward to seeing you on Friday! <3
March 16th, 2020
Hello all! I hope you're staying healthy and safe out there in the midst of this worldwide health crisis.
This is a very challenging time for everyone, and for those of us in the arts, we already know the arts are going to be hit hard in the coming months. We have to hold on and go with the flow as much as possible. I am following the advice of our health officials here in Canada and BC, and I hope you're all doing the same wherever you live. Let's keep washing our hands, keep ourselves as isolated as possible, and let's all do our part to keep everyone as healthy as we can!
Thank you!
xo K
Sept. 27th, 2019
Happy release day to The New Pornographers! We're so proud to be releasing this new album, and we can't wait for you all to hear it. A huge thank you to everyone who has helped put together the album and its release, we appreciate all the support. And thank YOU for listening, loving, and sharing! We'll be heading out on tour to support the release, so we'll see you at the shows.
For info on how to order the record, to check out our other merch and album bundles, or to buy tickets to our upcoming shows, please head to our website!