Jan. 21st, 2021
I am excited to have recently launched 1-877-2BE-CALM as part of my 2 year artist residency with The City of Victoria! You can call toll-free 1-877-223-2256 (within Canada) to hear uplifting stories, songs, a meditation, children's laughter and lots of other wonderful sounds!
Listen to magical Northern Resident Orcas (#1 B.C. Nature Sounds), listen to a child discovering the Whoppee Cushion for the first time (#7 Children's Laughter), listen to a story about the Salish Wool Dog (#2 Indigenous Stories and Songs) and much more!!
You can also listen to all of the audio at victoria.ca/becalm, as well as check out the artist bios, transcripts and learn more about the project!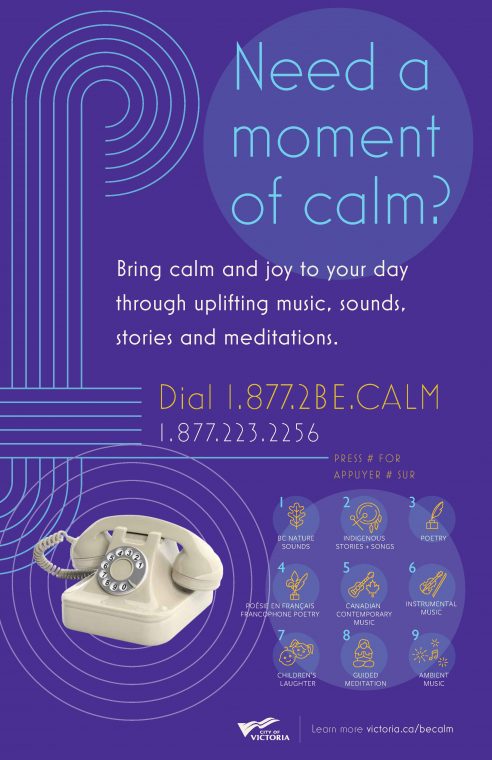 A million thank you's to everyone who has helped put this project together so far, including TELUS, The City of Victoria Arts, Culture and Events and Engagement offices, Katherine van der Gracht, Colin Stewart, Christine Boutillier, Dominique Hamel, Anne-Marie Stewart, Kate Todoruk, Ženija Esmits, Dr. John Ford, and all the parents who sent in recordings of their children laughing! A big thank you as well to my dear collaborator on this project Emily Hamel, and to all the artists involved who agreed to share their work! Thank you!